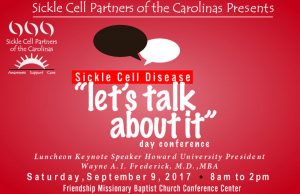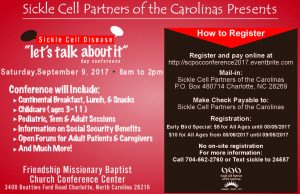 Greetings from Sickle Cell Partners of the Carolinas! We are excited to share news regarding, "Sickle Cell Disease… Let's Talk About It," our 4th annual day conference designed for patients, families and the community at large to learn more about sickle cell disease and to build awareness about this hereditary condition. We are pleased to announce our keynote luncheon speaker! Howard University President, Wayne A.I. Frederick MD, MBA, will bring to the table a wealth of knowledge and personal experience with this hereditary condition.
Dr. Frederick has not only served in the capacity of treating and researching illness, he is a man living and thriving with sickle cell disease like many of you. Please make sure you join us for an engaging, informative and robust conversation as we discuss the health and well-being of patients living with sickle cell disease and the vast community of family and caregivers who care deeply about sickle cell patients.
Dr. Frederick serves as the 17th President of Howard University and is also recognized as a distinguished researcher and surgeon. His dedication to Howard University began as a young teen when he was admitted to the university at the age of 16. After receiving numerous degrees from Howard and working in the medical field, he returned to his alma mater where he served in a number of roles before ascending to President of Howard University.
Mark your calendars for Saturday, September 9, 2017 from 8am to 2pm at Friendship Missionary Baptist Church Conference Center in Charlotte. An early bird special rate of $5 is now available through Eventbrite to purchase tickets.  Sickle Cell Partners of the Carolinas looks forward to welcoming you and your family to  "Sickle Cell Disease…. Let's Talk About It."  See the attached flyer and please help us spread the word about this event.
Purchase tickets here: https://www.eventbrite.com/e/sickle-cell-diseaselets-talk-about-it-tickets-34771508518