Support & Services
Links to "Sickle Cell Disease… Let's Talk About It" Conference Programs: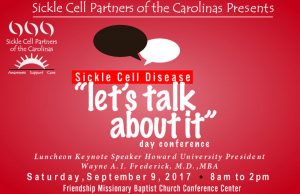 2017 Sickle Cell Conference Program
2016 Sickle Cell Conference Program
2015 Sickle Cell Conference Program
2014 Sickle Cell Conference Program
Resources & Support:
CMC Hospital: Pediatric Hematology-Oncology Department
Novant Health Blume Pediatric Hematology & Oncology
Georgia Comprehensive Sickle Cell Center
Sickle Cell Partners of the Carolinas is a non-profit group that lends support to patients and families affected by Sickle Cell Anemia where we can. Our annual conference has been a cornerstone of our efforts. In the past, we have visited patients in the hospital and offered prayer and encouragement for families dealing with the effects of Sickle Cell Anemia. When patients are hospitalized, SCPOC knows the toll this can take on families. One service we have provided in the past includes gift baskets for caregivers who are staying with children who are in the hospital.